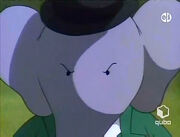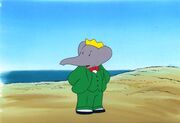 Babar is the main protagonist of the franchise. He is currently the king of Celesteville. Babar's family is quite large.
His life started tragically when Babar's mother was killed by the hunter and he was forced to run away from home for safety. He wound up in Paris and met the Old Lady (Madame) and made friends with her.
She helped him learn the human ways and confront the murderer, and then create a city for elephants where they will be safer.
Other Media
Babar made a cameo appearance in the "Book People Unite" commercial towards the end with several other famous literary characters.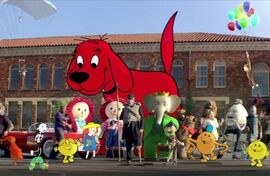 This version of Babar was CGI animated.
Trivia
Babar's rival Hunter and Chiaki Tani from Samurai Sentai Shinkenger.
In the books and other versions, Babar has short tusks.