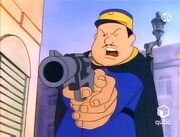 City Ways is episode 1 . It first aired April 4, 1989.
Forced to run away from the jungle by the Hunter, Babar makes his way to the City only to find it just as dangerous and confusing. Motherless and alone, Babar is befriended by the Old Lady, who tries to teach him how to fit into her world, with his ultimate ... test at a society dinner in his honour.
External Links
Ad blocker interference detected!
Wikia is a free-to-use site that makes money from advertising. We have a modified experience for viewers using ad blockers

Wikia is not accessible if you've made further modifications. Remove the custom ad blocker rule(s) and the page will load as expected.